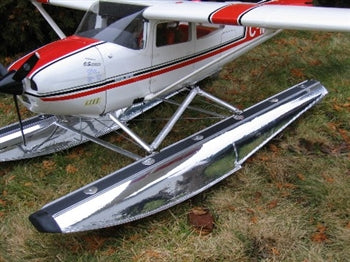 Our Ultimate Series 1/3 Scale float kit exactly duplicate Edo's 1400 series right down to the last fitting. Although the floats were designed for use on a J-3 Cub, they can be adapted for use on almost any 1/3 scale model.
Type                               Scale Edo 1400 Series floats
Length                            59 Inches.
Width                              8-3/8 Inches (each pontoon)
Weight                            3-1/2 to 4-1/2 Pounds
Capacity                         Will support models weighing up to 40 pounds 
Model Features
Balsa, Bass, and Ply construction
Kit Includes:
Full-Size plans W/ photo instruction book.
Jig & die cut parts
All struts, cross brace wires, and fittings
One (1) water rudder