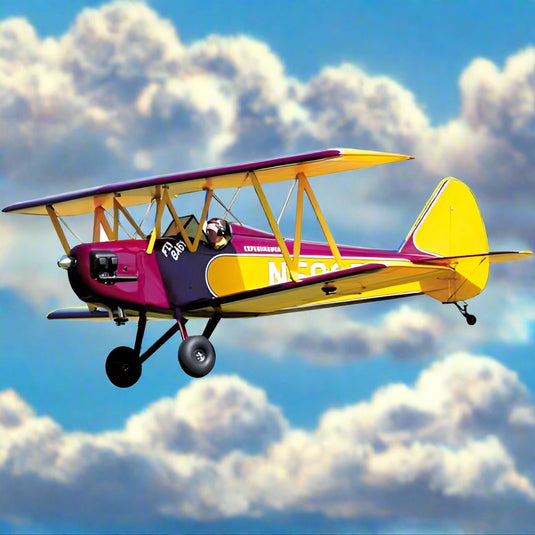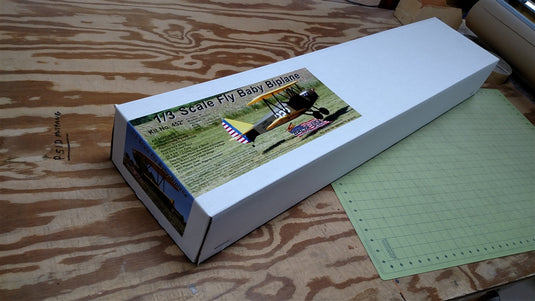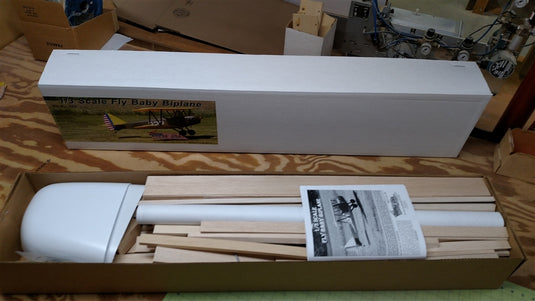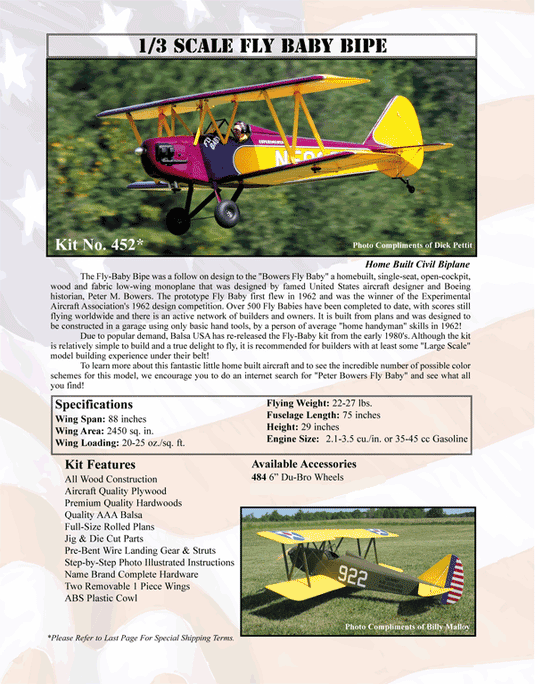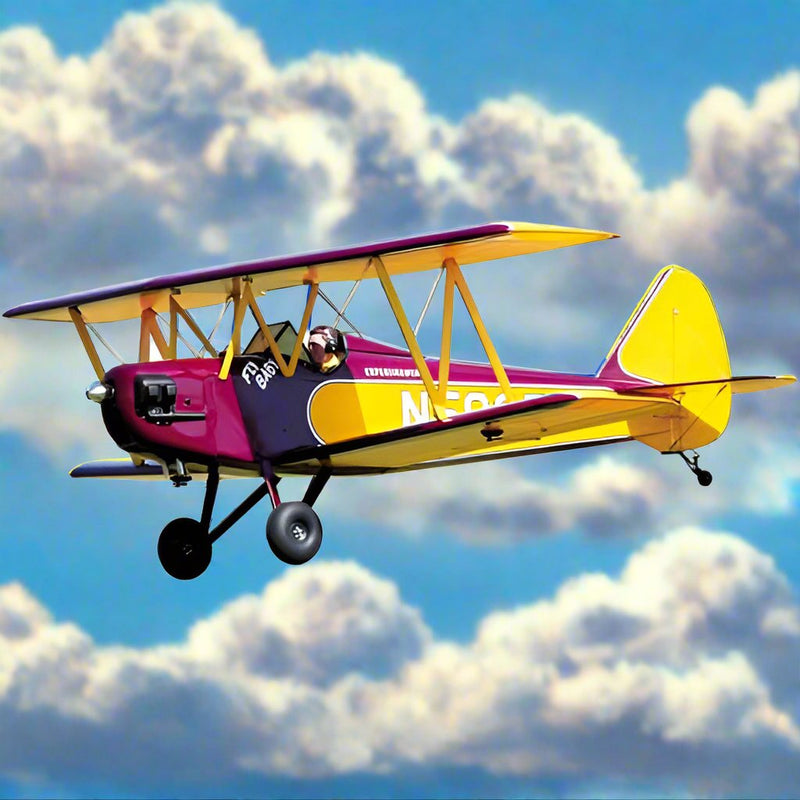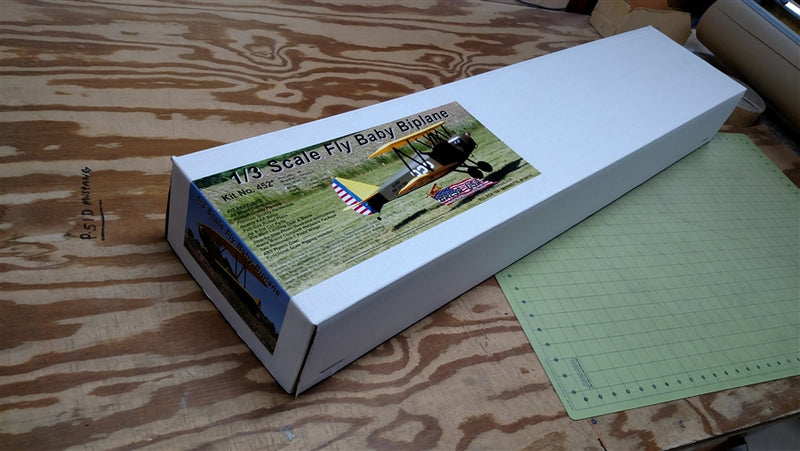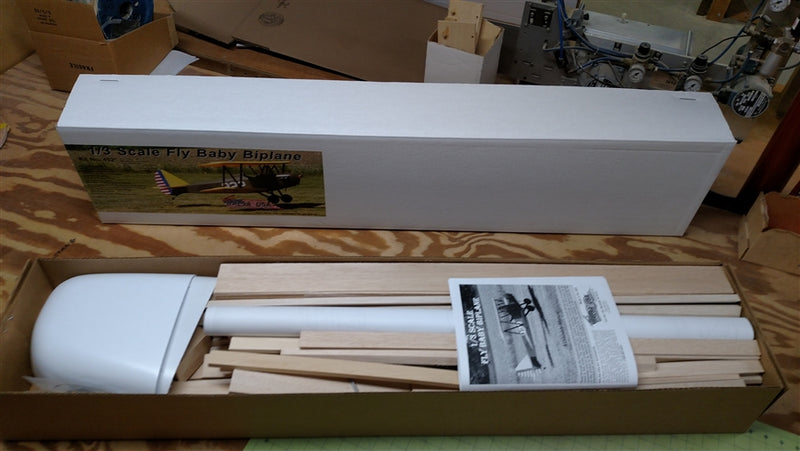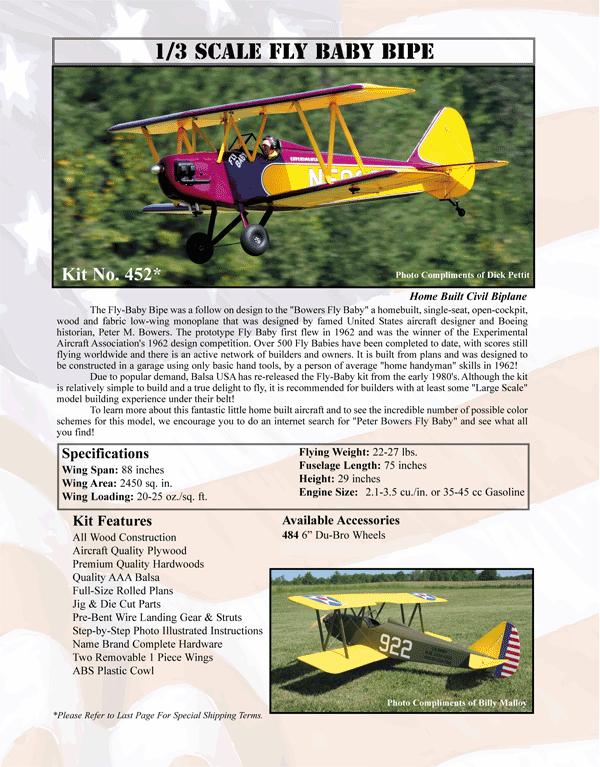 Type                                        1/3 scale Home Built Civil Biplane
Wing Span                              88 inches
Wing Cord                              14 inches
Wing Area                              2450 Sq. inches
Airfoil                                     Flat Bottom
Wing Loading                         20 ~ 25 Oz / Sq .Foot.
Flying Weight                         22 to 27 Lbs
Fuselage length                                   75 inches
Height                                     29 inches (flight ready)
Engine Size                             2.1 ~ 3.5 Cubic Inch or 35 ~ 60cc
Radio Gear                              4-Channel W/5 Servos (100 Oz Torque min.)
Model Features
Balsa, Bass, and Plywood Construction.
Two one piece wing
ABS Plastic Cowl
Kit includes
Full Size rolled Plans & Instructions.
Name Brand Hardware and custom made steel fittings.
Pre-Bent wire landing gear and cabane struts.
Items Needed to Complete
Control System, 4-40 Push Rods, or a Pull / Pull Cable system suitable for a model of this size.
Fuel System, fuel tank and fuel lines compatible with the fuel requirements of engine used.
Covering (3) 5-meter rolls required   
1 Pair Du-Bro 6" Wheels,
Regular Stocked Parts & Options
Part Number                                       Description
 A452                          Plans & Instructions
 #484                           Du-Bro 6" wheels (per Pair)
 #679                           Fuel Tank-24 Oz.  (Compatible with both Gasoline and glow fuel)
 C452                          ABS Cowl
Notes
Center of Gravity                  7-1/2 inches back from Leading Edge at the CENTERLINE
Control Throws:
Elevator  …………………………..  1-1/2" Up & Down
Rudder  ……………………………  2-1/2" Left & Right
Ailerons  …………………………..  2" Up & Down
Aileron Differential  ……………...  2-1/4" Up & 3/4" Down  (differential recommended)
Fly-Baby Bipe
             The Fly-Baby Bipe was a follow on design to the "Bowers Fly Baby"  a homebuilt, single-seat, open-cockpit, wood and fabric low-wing monoplane that was designed by famed United States aircraft designer and Boeing historian, Peter M. Bowers.  The prototype Fly Baby first flew in 1962 and was the winner of the Experimental Aircraft Association's 1962 design competition.  Over 500 Fly Babies have been completed to date, with scores still flying worldwide and an  an active network of builders and owners. It is built from plans and was designed to be constructed in a garage using only basic hand tools, by a person of average "home handyman" skill in 1962!
           Due to popular demand Balsa USA has released the Fly-Baby baby kit from the early 1980's.  Although the kit is relatively simple to build and a true delight to fly it is recommended to builders with at least some "Large Scale" model building experience under their belt!
           To learn more about this fantastic little home built aircraft and to see the incredible number of possible color schemes for this model we encourage you to do an internet search for "Peter Bowers Fly Baby" and see what all you find!