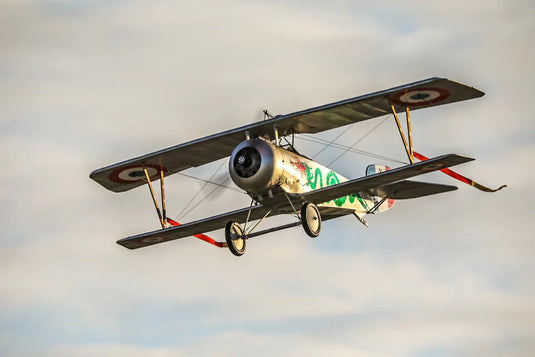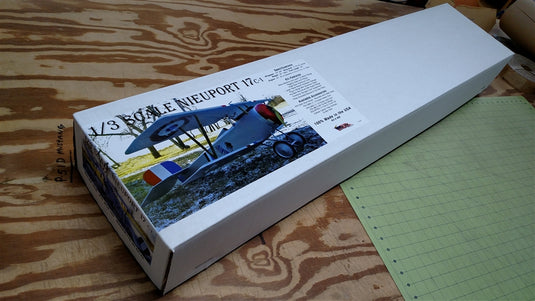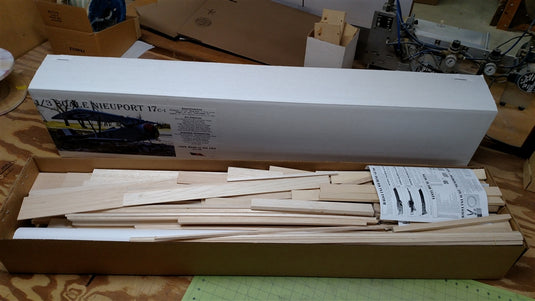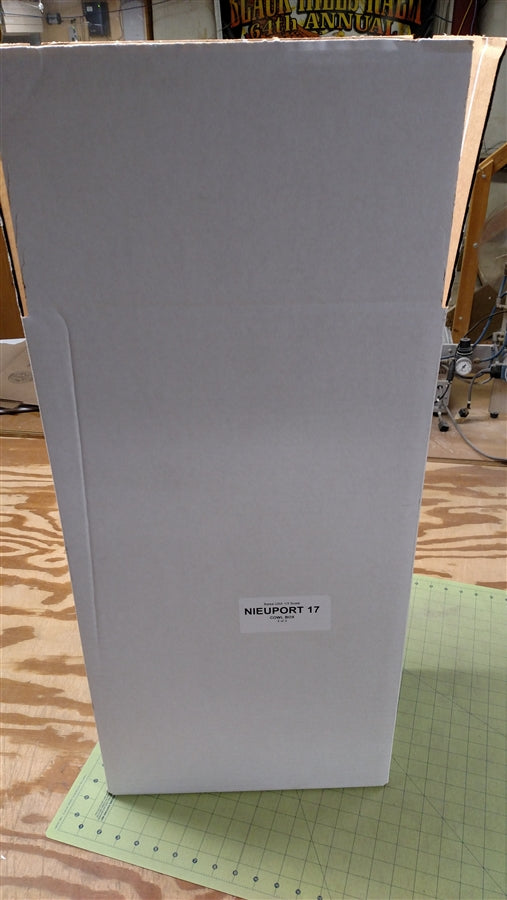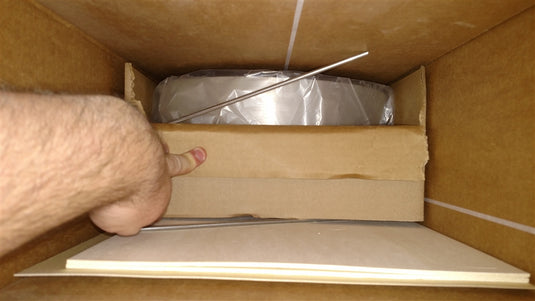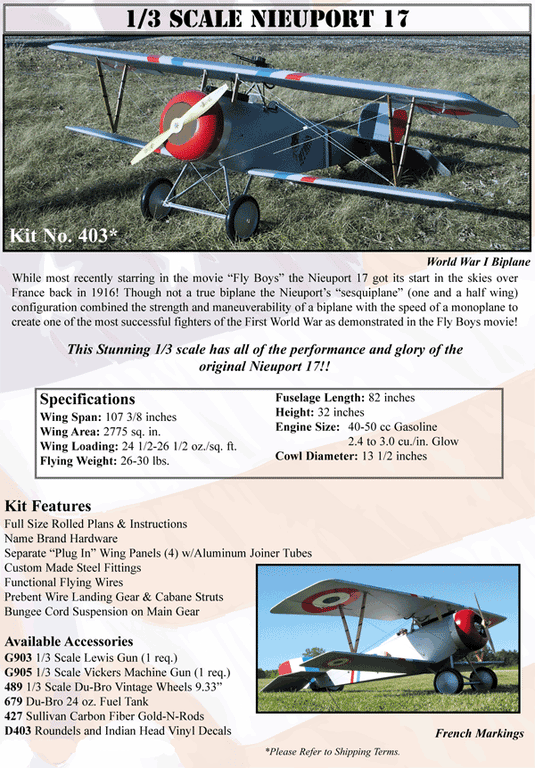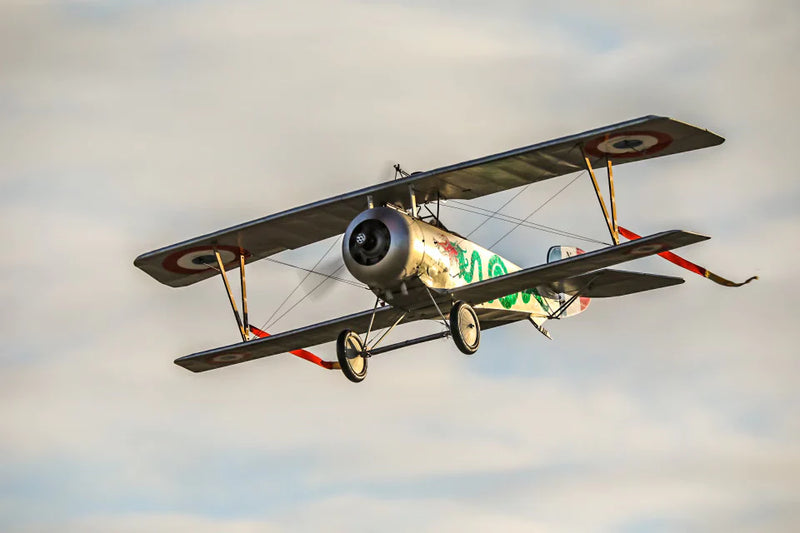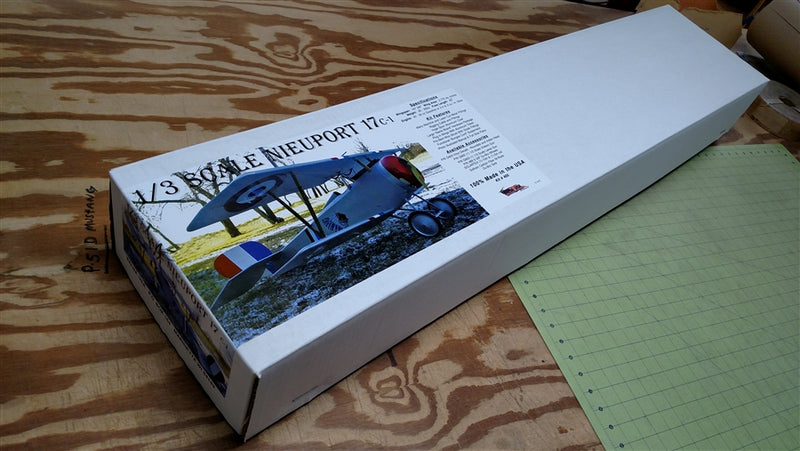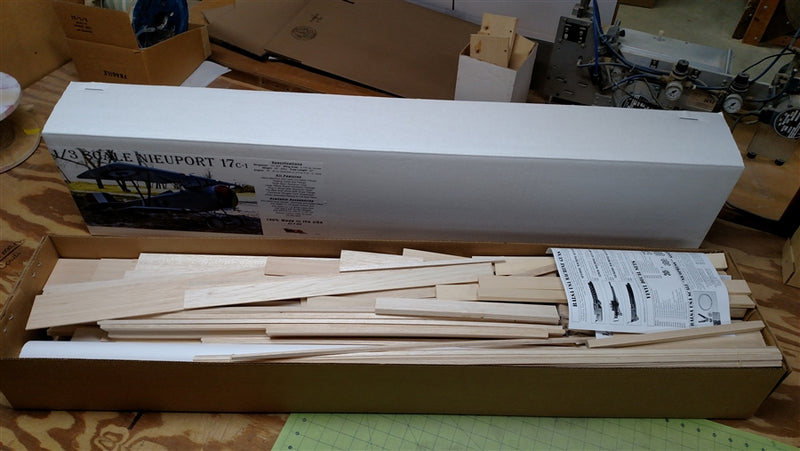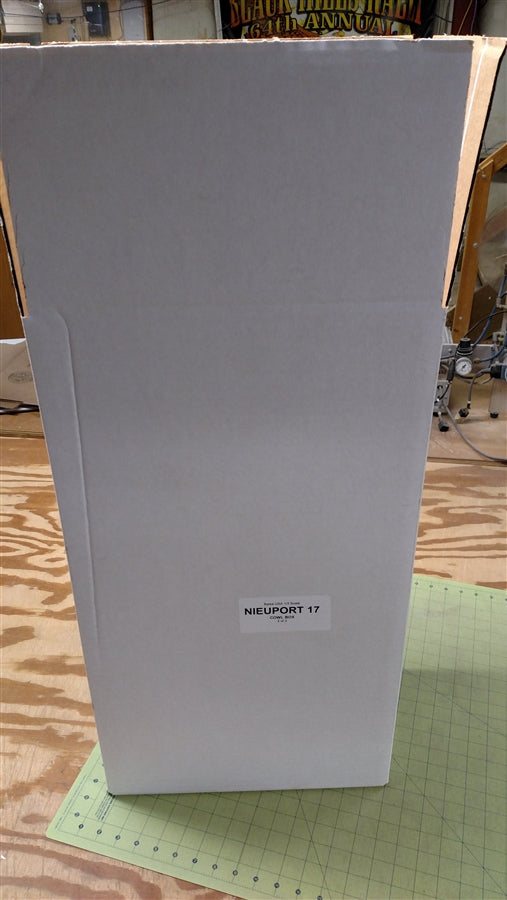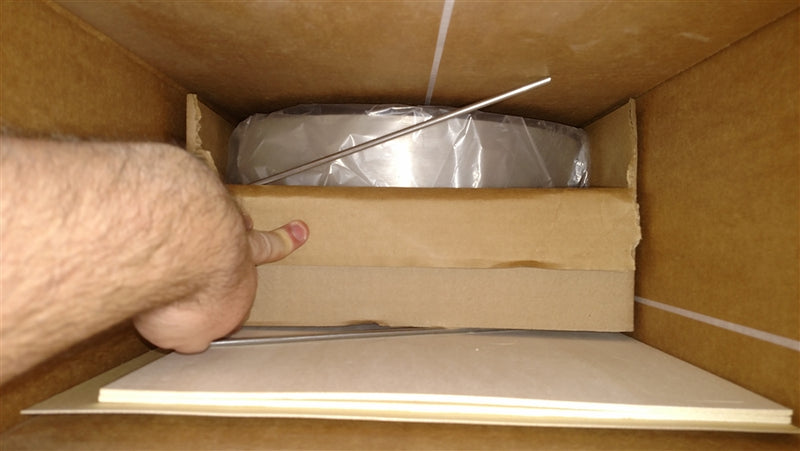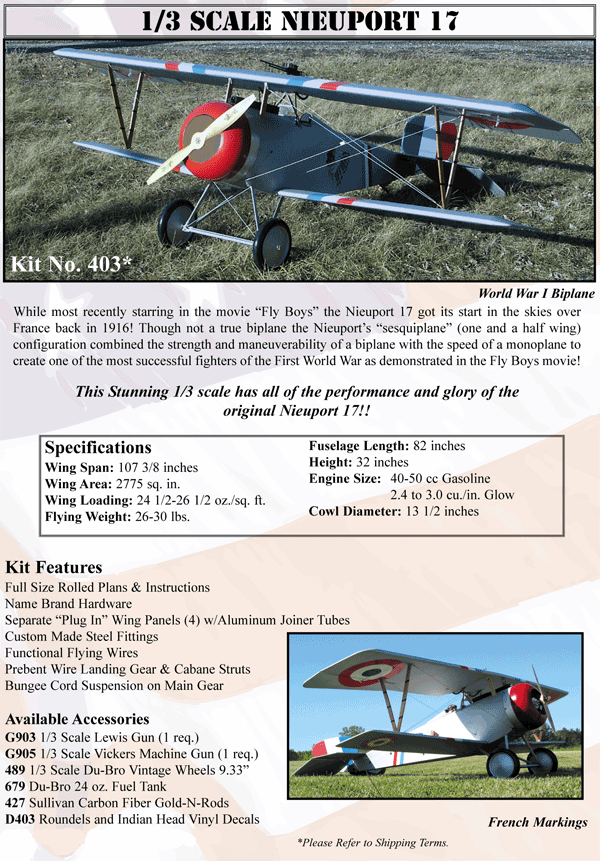 >>>>> Upgrade To The 1/3 Scale Nieuport 17 Kit Package <<<<<  
Type                                                    French Built 1/3 Scale WW-I Sesquiplane Fighter
Wing Span Top                                   107-3/8 inches 
Wing Span Bottom                             94 inches
Wing Cord Top                                   16-3/4 inches
Wing Cord Bottom                             10-1/8 inches
Wing Area                                          2775 Sq. inches total
Airfoil                                                 Flat Bottom
Wing Loading                                     24-1/2 ~ 26-1/2 Oz / Sq. Foot.
Flying Weight                                     26 to 30 Lbs
Fuselage length                                   82 inches
Height                                                 32 inches (flight ready) 18inches (no gear)
Engine Size                                         2.4 ~ 3 Cubic Inch or 40 ~ 50cc
Radio Gear                                          4-Channel W/6 Servos (100 ~150 Oz Torque min.)
Scale size Prop                                    32" Dia.
Cowl Diameter                                         13-1/2" X 7" Deep
Model Features
Balsa, Bass, and Plywood Construction.
Separate "plug in" wing panels (4) W/ aluminum joiner tubes
Functional Flying Wires.
Bungee cord suspension on main gear.
Kit includes
Full Size Plans & Photo Instructions.
Name Brand Hardware and custom made steel fittings.
Pre-Bent wire landing gear and cabane struts.
Items Needed to Complete
Control System, 4-40 Push Rods, or a Pull / Pull Cable System
Fuel System, fuel tank and fuel lines
Covering (3) ten-meter rolls Required
Pair Du-Bro 9-3/8 Wheels
Notes:
Center of Gravity      5-7/8" inches back from Leading Edge of Top Wing on CENTERLINE
Control Throws:                                                                               Incidence:
Elevator  ………..  2" Up & Down                Top Wing  ……… +1~2 Degrees
Rudder  …………  2-3/4" Left & Right               Bottom Wing  ….  -1~0.0 Degrees
Ailerons  ………..  1-3/4" Up & Down              Tail  ……………...  0.0 Degrees
Aileron Differential  ……………...  2" Up & 1" Down 
Engine Thrust Line  ……………...  2 Degrees DOWN,  1~2 Degrees RIGHT
1/3 Scale Nieuport 17 Decals "French" Lafayette Escadrille
(4)       Large Roundels           Top of TOP wing …………..…………… 16-1/8 inch
(2)       Small Roundels          Bottom of BOTTOM Wing ………… …. 8-1/4 Inch
(2)       Tail Number               Rudder ……………………………....…  3" & 1-5/8" High
(2)       "Lafayette Indian"            Fuselage sides …………………..………. 6" X 7-1/2 High