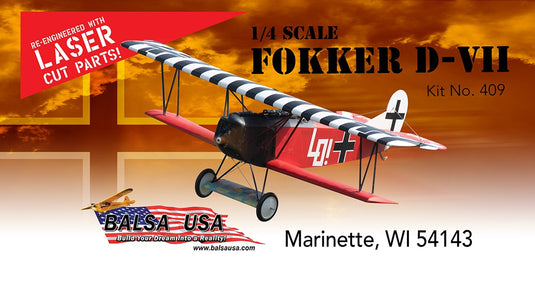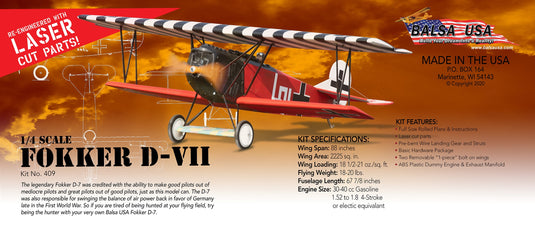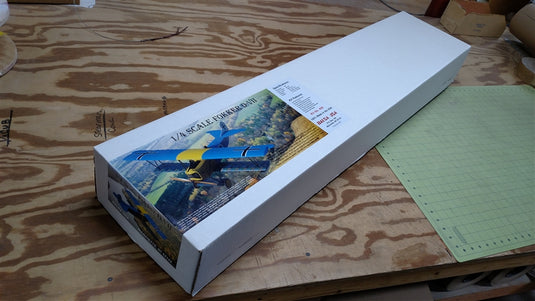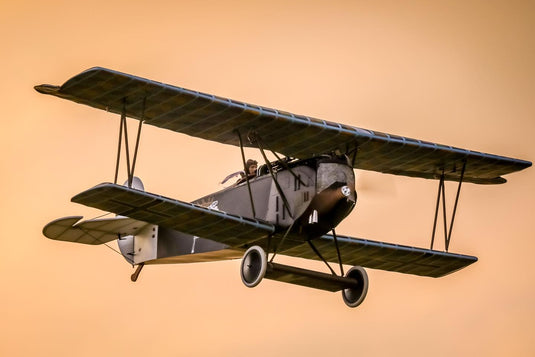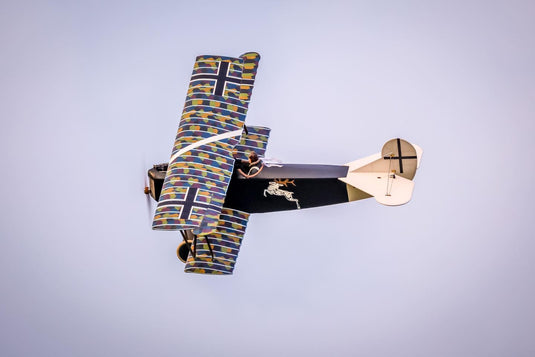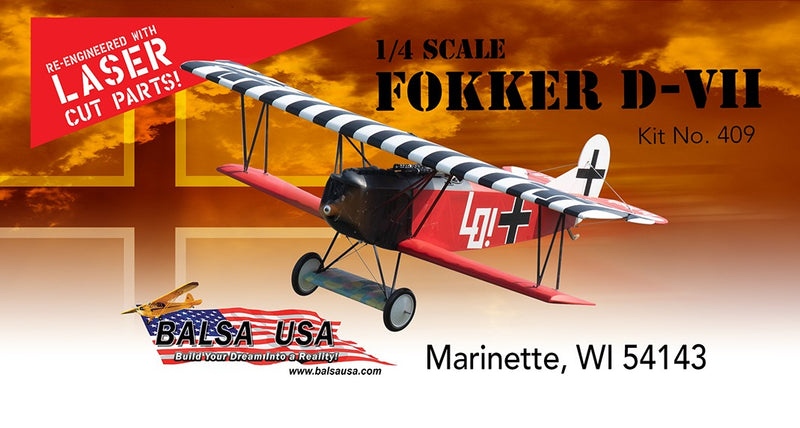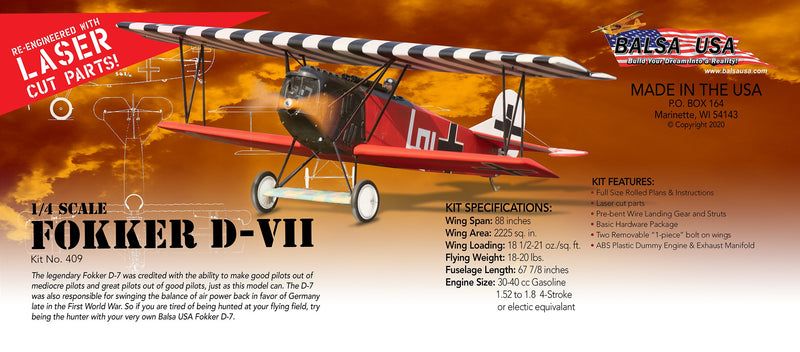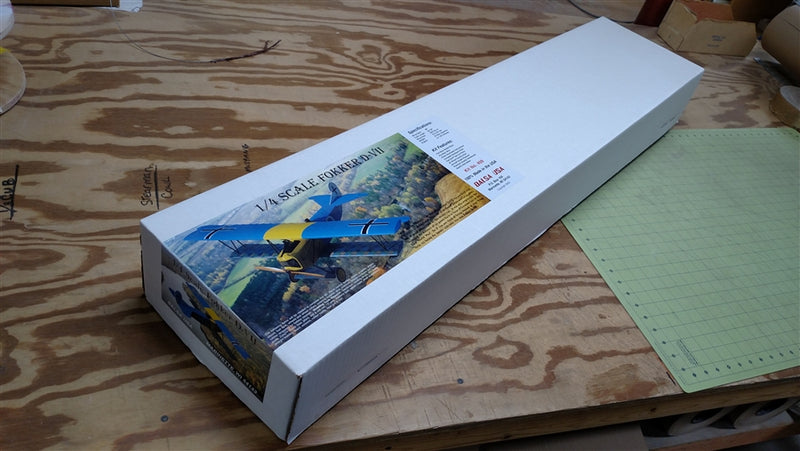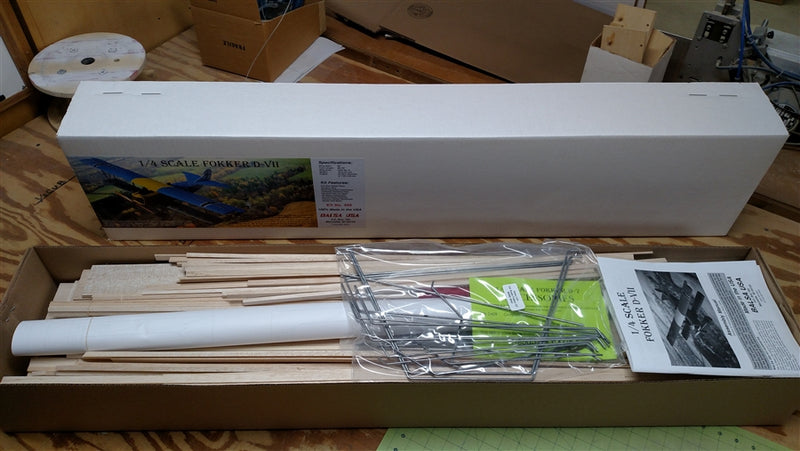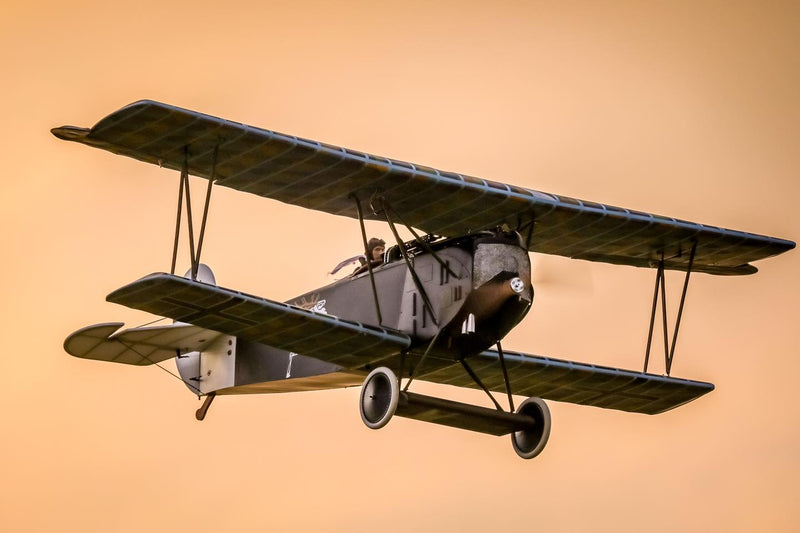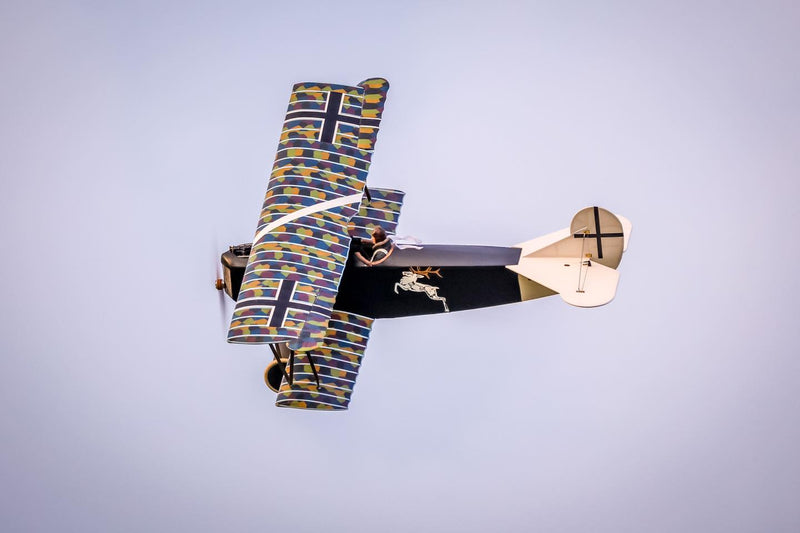 Type                                        German Built ¼ Scale WW-I fighter
Wing Span Top                       88 Inches (15-5/8" cord)
Wing Span Bottom                 70 Inches (11-7/8 cord)
Wing Area (total)                    2225 Square Inches
Airfoil                                     flat bottom
Wing Loading                         18-1/2 ~ 21 Oz. / Sq. Foot
Fuselage Length                   68-7/8 Inches.
Flying Weight                         18 to 20 Pounds
Engine Size                             Gasoline 25 ~ 35cc / 1.20 ~ 1.80 4-stroke glow
Prop Size                                 Depends on engine being used  (18-6 recommend for G-26)
Fuel Tank                                24 Oz. (compatible with fuel requirements of engine)
Radio Equipment                    4-Channel W/ 5 servos min.
Servo Requirements               High torque 60~70 In. / Oz. for Rudder and Elevator.
Wheel Size                              6-5/8 vintage (Not included in kit)
Engine compartment               6-1/2" X 12-1/4
Model Features
Balsa, Bass, and Ply construction
Two Removal "1-piece" bolt on wings
Kit Includes
Full-Size plans W/ photo instruction book.
Jig & Die Cut parts
Pre-bent wire landing gear and struts W/ hardwood and balsa fairings
Basic hardware package
ABS plastic dummy engine and exhaust manifold
Items Needed to Complete
Control system (push rod type or pull / pull cable system suitable for a model of this size)
Fuel System (fuel tank & fuel lines) compatible with the fuel requirements of engine being used. 1-pair 6-5/8 Vintage wheels   Covering (3) 5-meter rolls
Regular Stocked Parts & Options
Part Number                                       Description
   D409            Decal Set
   A409            Plans & Instructions
   488                           6-5/8 Vintage wheels (1-pair)
   G901            ¼ Scale Spandau Gun  (2 required)    
   429                           Gold-N-Rod 48"  (one pack required)
   430                           Gold-N-Cable 36"  (one pack required)
   678                           Flex-Tank 16 Oz.  (For Glow Fuel use ONLY)
Notes
Center of Gravity                  Five (5) Inches back from leading edge of top wing
Control Throws:                                                                   Incidence:      
Elevator ………. 1-1/4" Up and Down                Top Wing  ……………… +1~2 Degrees
Rudder ……….  2" Left and Right           Bottom Wing  ………...  -1~0.0 Degrees
Ailerons ………. 1" Up and Down                      Tail  …………………...  0.0 Degrees          
(Aileron differential recommended 1-1/4" Up 1/2" Down)    
Thrust Line ..  2 Degrees DOWN,  1~2 Degrees RIGHT
1/4 Scale Fokker D-VII Decals "German, Late War Lateen (straight) Crosses"
(2)       Large 9 Inch Crosses with White Outlines ………...…...  Top of Top Wing
(2)       Smaller 10 Inch Crosses with White Outlines …………… Bottom of Bottom Wing
(2)       Small 5-3/4 Inch Crosses with White Outlines ………….. Fuselage Sides
(2)       Small 5-3/4 Inch Crosses NO White Outlines …………... Rudder