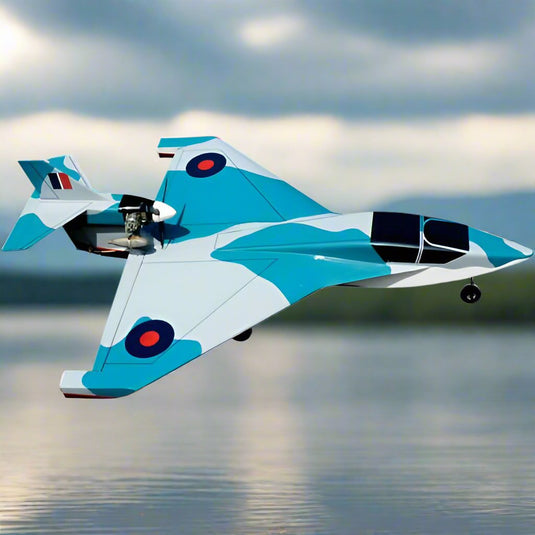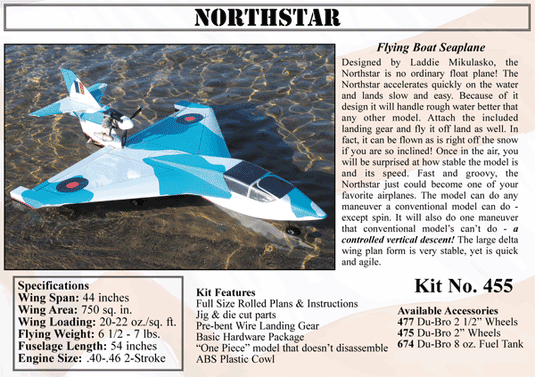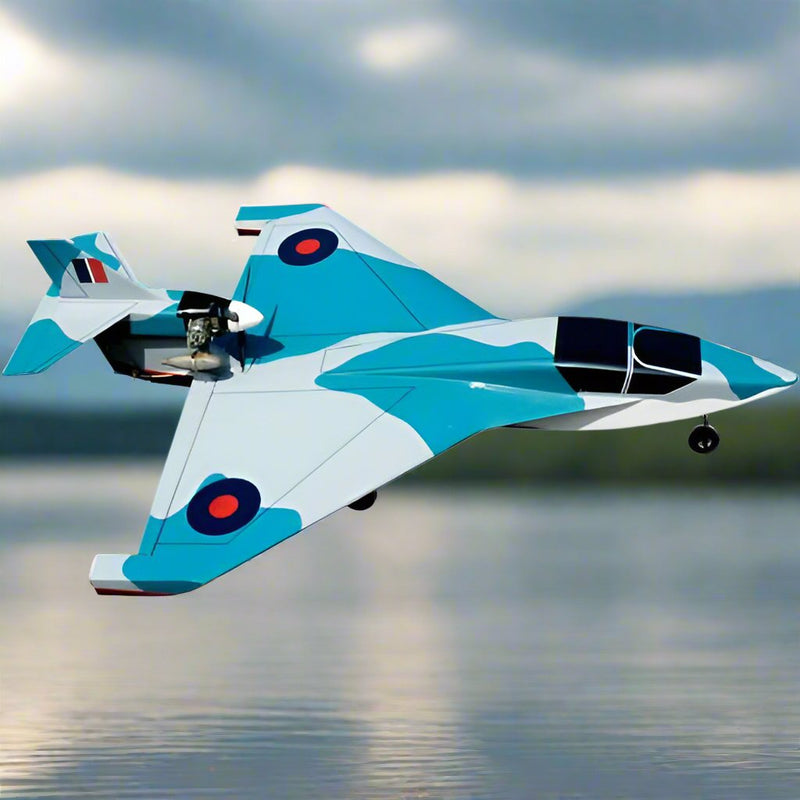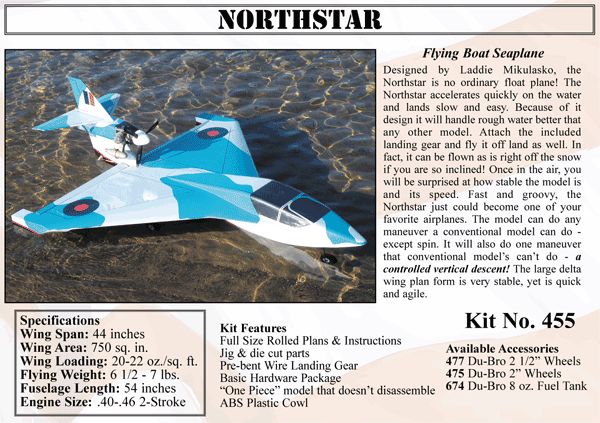 Now Laser Cut Parts                                                                                                                                                                                                                                                                   
Type                            Flying Boat seaplane W/ tricycle landing gear for use off ground.
Wing Span                  44 inch Delta.
Wing Area                  750 Square Inches.
Airfoil                         Fully Symmetrical
Wing Loading             20~22 Oz. / Sq. foot
Fuselage Length          54 Inches.
Flying Weight             6-1/2 to 7 Pounds
Engine Size                 40 to 46 2-Stroke recommended.
Prop Size                     Limited to a 10-inch diameter prop due to models configuration.
Fuel Tank                    Limited to an 8 Oz. Slant Stile tank due to models configuration.
Radio Equipment        4-Channel W/ 4 standard servos, no "mixing" required.
Wheel Size                  2-1/2" main, 2" nose wheel. (Not included in kit)
Model Features
Balsa, Bass, and Ply construction
Model is a "one piece" model that doesn't disassemble
Model is capable of operations off Land, Water, and even Snow.
Kit Includes
Full-Size plans W/ photo instruction book.
Jig & Die Cut parts
Pre-bent wire landing gear.
Basic hardware package
ABS plastic cowl.
Items Needed to Complete
Control system (push rod type Required)
Fuel System (fuel tank & fuel lines)
Covering (2) 5-meter Rolls Required
1-pair 2-1/2" wheels, one 2" wheel.
Hinges
Notes
Center of Gravity
16 inches FORWARD of aileron hinge line, W/ fuel tank EMPTY
Control Throws:
Elevator  ………………  5/8" Up & Down
Rudder  ……………….  1-3/4" Left & Right
Ailerons  ………………  3/4" Up & Down